Exterior Lighting
Light the safe way home with security and exterior lighting from Illumenate. For over 30 years, we have been providing customers all over the world with exterior and interior lighting choices for all kinds of homes and businesses. We are passionate about what we do and pride ourselves in offering one of the most comprehensive selections of lighting products online.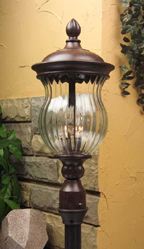 Exterior lighting is important for the security and safety of your home and family. Dark areas, especially around doors or windows, often present safety concerns. We recommend special lights for paths, doors, windows and yards. If you're still not sure what to get based on our helpful website tips and suggestions, simply give us a call or email us--we'll get back to you promptly with all the answers you need on exterior lighting.
One of the most popular types of exterior lighting is Spot Lighting. These lights are rust and corrosion proof and are made to stand up to all kinds of weather and climates. Heavy fertilizers, lawn chemicals or snow won't phase these in-ground lights one bit.
Spotlights work to light paths or doorways and can be built into the ground or can stick up to light higher areas. They feature rotatable glare shields, tempered Borosilicate glass and polycarbonate stakes. These rugged exterior lights comprise just some of the hundreds of products we have in stock. Furthermore, many of our exterior products feature a corrosion resistant finish that is guaranteed for 10 years
.